A model – Without Dump Valve
High pressure is relieved externally. This is achieved in most cases by the use of a pilot operated check valve. This is a good solution when there is high return flow from a large bore hydraulic cylinder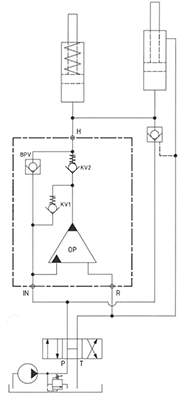 B model – With Dump Valve
Allows the high pressure side to be relieved. When port 'R' is pressurised and port 'IN' is open to tank. Pilot supply will open the 'DV' valve allowing the fluid from the high pressure side 'H' to flow back to tank.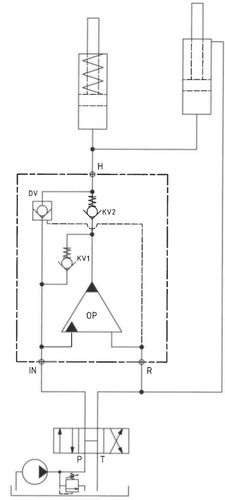 The RV valve allows you to control the high-pressure side proportionally controlled directly from the low-pressure  side.
G model in 2 variants
G-models are available in 2 variants.
G = Dynamic – low hysteresis – fast reacting
E.g. brake applications.
Pay attention to secure stable inlet pressure, minimum Ø5mm supply line.
G-__ = Fail Safe – High hysteresis – keeps high-pressure stable
E.g. offshore safety circuit, no trapped high-pressure.
Maintain HP until inlet pressure is below 50% of normal working pressure.